Melanoma, a potentially deadly form of skin cancer, is often difficult to diagnose and can spread — or metastasize — if it is not detected and removed quickly.
When found early, however, melanoma can often be treated with a simple surgery. Routine self-examinations are an important part of identifying melanoma in its earliest, and most treatable, stages.
In order to determine if a mole may be melanoma, follow the ABCDE method of self-screening:
Connect with UPMC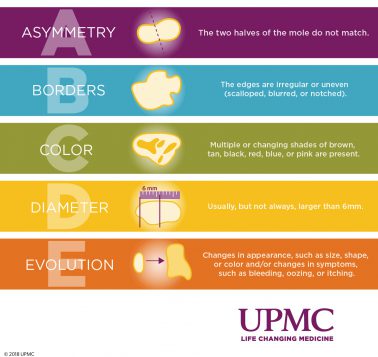 Never Miss a Beat!
Subscribe to Our HealthBeat Newsletter!
I understand that by providing my email address, I agree to receive emails from UPMC. I understand that I may opt out of receiving such communications at any time.
Thank you for subscribing!
You are already subscribed.
Sorry, an error occurred. Please try again later.
Get Healthy Tips Sent to Your Phone!
If you have a mole that fits one or more of these criteria, you should see a dermatologist as soon as possible so he or she can determine if a biopsy is necessary. You can also ask your primary care doctor to check your skin for signs of skin cancer at your annual physical. Remember: early detection is key!
The UPMC Department of Dermatology diagnoses, treats, and manages numerous hair, skin, and nail conditions and diseases. We care for common and uncommon conditions, and our treatments include both surgical and non-surgical options. We operate several specialty centers for various conditions. The UPMC Cosmetic Surgery and Skin Health Center is the most comprehensive dermatologic laser facility in the region. With UPMC Hillman Cancer Center, we offer a Skin Cancer Program that provides complete care from screenings, diagnosis, treatment, and beyond.