With football season underway, avid fans of the game (and Fantasy Football players, too!) often enjoy watching their favorite teams duke it out on the gridiron while munching on some snacks. Whether you're hosting a football viewing party at your place or visiting a friend with a big screen to root for your team, good food is always welcome.
Although some cream- or cheese-based dips can be tasty, they are often packed with hidden fats, sodium, and empty calories. As a healthier option, look to vegetable-based dips that can be as equally satisfying as their cheesier counterparts. With this in mind, chips and salsa are a staple for any game day. Check out this healthy alternative to traditional salsa, featuring corn, tomato, and heart-healthy black beans.
Serves
20 (1 oz portion)
Ingredients
5-1/2 oz Fresh or frozen corn kernels (thawed if frozen)
1 oz Red onion, minced
1-1/4 teaspoons Fresh cilantro, chopped
1/8 teaspoon Fresh thyme, chopped
1/2 oz Sweet red peppers, diced
11 oz Fresh plum tomatoes, diced
4 oz Canned black beans, rinsed
1-1/4 teaspoons Olive oil
1 teaspoon Balsamic vinegar
1/8 teaspoon Kosher salt
Directions
In a hot, dry skillet, roast the corn until lightly browned. Cool quickly to internal temperature of 40 degrees F.
Combine all ingredients and mix well.
Hold refrigerated at internal temperature of 40 degrees or below for service.
Use within 24-48 hours. Serve with corn chips.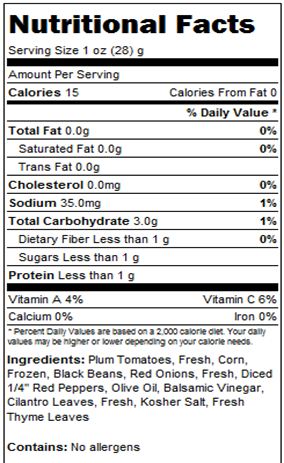 Never Miss a Beat!
Subscribe to Our HealthBeat Newsletter!
I understand that by providing my email address, I agree to receive emails from UPMC. I understand that I may opt out of receiving such communications at any time.
Thank you for subscribing!
You are already subscribed.
Sorry, an error occurred. Please try again later.
Get Healthy Tips Sent to Your Phone!
Connect with UPMC
Headquartered in Pittsburgh, UPMC is a world-renowned health care provider and insurer. We operate 40 hospitals and 700 doctors' offices and outpatient centers, with locations in central and western Pennsylvania, Maryland, New York, and internationally. We employ 4,900 physicians, and we are leaders in clinical care, groundbreaking research, and treatment breakthroughs. U.S. News & World Report consistently ranks UPMC Presbyterian Shadyside as one of the nation's best hospitals in many specialties and ranks UPMC Children's Hospital of Pittsburgh on its Honor Roll of America's Best Children's Hospitals.