It's that time of year again! Break out the spooky decorations, creepy crawly critters, trick-or-treat costumes… and candy! We all know that Halloween also means plenty of sweet treats, but trying to steer your kids away from piles of gooey chocolate, bags of salty chips, and heaps of sugary candy can be quite a challenge.
Thankfully, there are plenty of creative ways to stay on track. We whipped up a few of our favorite healthy (and spooky) Halloween treats to keep your kids in the holiday spirit without the sugar rush:
Banana Centipede
Get your kids in the spooky spirit with this creepy crawly snack! Bananas are packed with potassium, are easy to digest, and they're high in fiber. Peanut butter adds some protein to the mix.

Never Miss a Beat!
Subscribe to Our HealthBeat Newsletter!
(Tap to Join!)
(Click to Join!)
I understand that by providing my email address, I agree to receive emails from UPMC. I understand that I may opt out of receiving such communications at any time.
Sorry, an error occurred. Please try again later.
Get Healthy Tips Sent to Your Phone!
Candy Corn Fruit Cup
Ditch the sugary candy for a delicious and healthy sweet treat! Top sliced oranges and pineapple with a dollop of whipped cream to ramp up your daily intake of Vitamin C.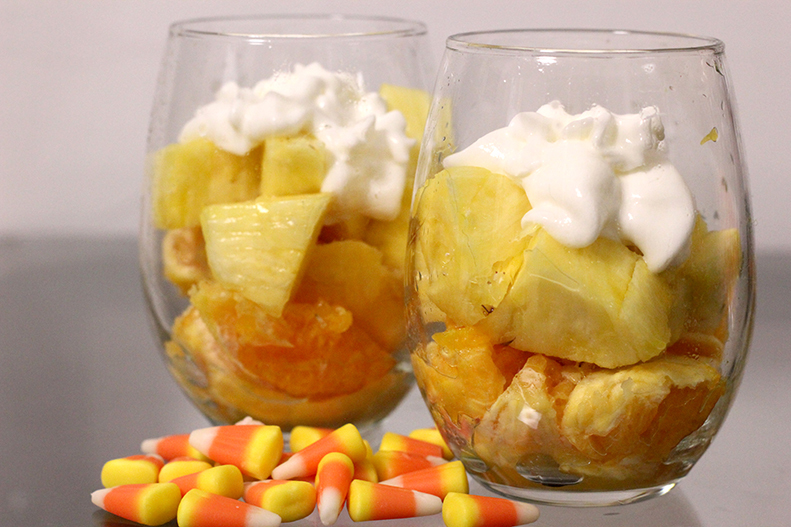 Candy Corn Smoothie
Freeze coconut milk, papaya, and pineapple, blend each separately, and layer in a glass for this chilly dose of tropical goodness. Who needs candy corn when you can enjoy this decadently healthy dessert?

Owl Crackers
Your kids will love these little cracker creatures. Spread a Baby Bell cheese wedge over whole-wheat crackers and top with raisins or cranberries and an almond for the beak. Enjoy those healthy fats! Hoot Hoot!

Spider Crackers
If you're looking for something classic, these spooky spider crackers will bring you back to your own childhood! Peanut butter adds a kick of protein, while the chocolate chips help satisfy your chocolate craving without gorging on your kid's leftover trick-or-treat candy.

Connect with UPMC
Headquartered in Pittsburgh, UPMC is a world-renowned health care provider and insurer. We operate 40 hospitals and 800 doctors' offices and outpatient centers, with locations throughout Pennsylvania, Maryland, New York, West Virginia, and internationally. We employ 4,900 physicians, and we are leaders in clinical care, groundbreaking research, and treatment breakthroughs. U.S. News & World Report consistently ranks UPMC Presbyterian Shadyside as one of the nation's best hospitals in many specialties and ranks UPMC Children's Hospital of Pittsburgh on its Honor Roll of America's Best Children's Hospitals. We are dedicated to providing Life Changing Medicine to our communities.