Aspirin, a common pain reliever for fever and aches, is generally not recommended for pregnant women. Some women with pre-existing health conditions, however, may continue taking aspirin when they're expecting.
In any case, you should contact your health care provider before taking aspirin while pregnant.
Never Miss a Beat!
Subscribe to Our HealthBeat Newsletter!
(Tap to Join!)
(Click to Join!)
I understand that by providing my email address, I agree to receive emails from UPMC. I understand that I may opt out of receiving such communications at any time.
Thank you for subscribing!
You are already subscribed.
Sorry, an error occurred. Please try again later.
Get Healthy Tips Sent to Your Phone!
Why Pregnant Women Should Avoid Aspirin
Aspirin is a natural blood thinner that can interfere with your child's healthy development. However, if you are already taking aspirin for a medical condition, do not discontinue taking it until you speak with your doctor.
Taking aspirin mainly during the first trimester and last trimester may cause the following:
An increased risk of miscarriage
A possible placental disruption
Delayed labor
Increased risk of heart and lung problems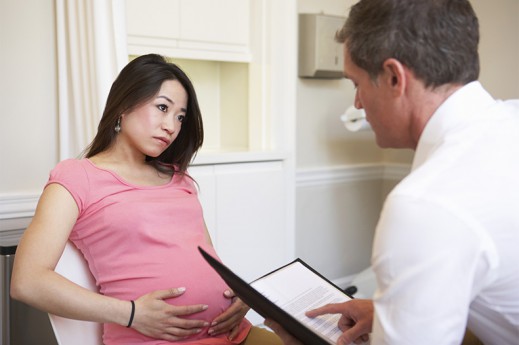 Exceptions to the Aspirin Rule for Expecting Women
Your health care provider may decide that you need to take a low dosage of aspirin (such as baby aspirin) if you fall into one of these categories:
In these cases the physician will determine the risks, and decide what the best case scenario is for you and your baby.
Are there aspirin alternatives?
You can take acetaminophen as an alternative unless you have an allergy to it. Check the labels, talk to the pharmacist, and/or your provider before taking over-the-counter drugs. Some medications will have trace amounts of aspirin, ibuprofen, or non-steroidal anti-inflammatory drugs (NSAIDs), which are also off-limits for expecting women.
Talk to your health care provider
Pregnant women should always discuss their medications and medical history with their doctor. Avoid aspirin or ibuprofen if you have not yet consulted with your doctor. As a general rule, expecting women should avoid any over-the-counter drugs unless they've received their doctor's approval.
Connect with UPMC
For more than a century, UPMC Magee-Womens Hospital has provided high-quality medical care to women at all stages of life. UPMC Magee is long-renowned for its services to women and babies but also offers a wide range of care to men as well. Our patient-first approach ensures you and your loved ones get the care you need. Nearly 10,000 babies are born each year at Magee, and our NICU is one of the largest in the country. Our network of care – from imaging centers to hospital services – provides care throughout Pennsylvania and Maryland, giving you a chance to get the expert care you need close to home. The U.S. Department of Health and Human Services recognizes UPMC Magee as a National Center of Excellence in Women's Health, and the Magee-Womens Research Institute is the largest research institute in the U.S. devoted exclusively to women's health and reproductive biology.