New moms have lengthy to-do lists — feedings, changing sleep schedules, and trips to the pediatrician, to name a few.
Even with all that multitasking, women often neglect one critical aspect of new motherhood — self-care.
"After women give birth, the focus is on the baby," said Katie Berlacher, MD, cardiologist at the Heart and Vascular Institute of UPMC and director of the Magee Womens Heart Program.
"They'll see their OB to talk about things like post-partum contraception, but typically they only have one or two follow-up appointments."
Dr. Berlacher said cardiovascular issues in women of childbearing age are uncommon, though women who suffer from certain heart-related conditions during pregnancy are at a greater risk of cardiovascular disease later in life.
"New moms should know that in order to take care of your baby, you have to take care of yourself," Dr. Berlacher said.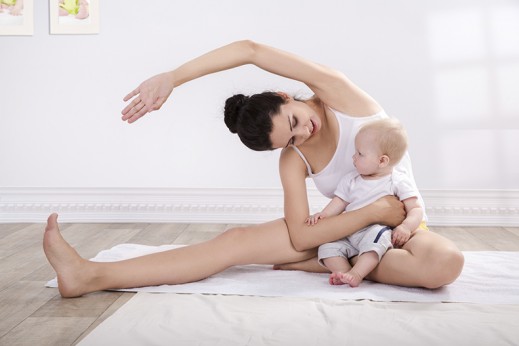 Never Miss a Beat!
Subscribe to Our HealthBeat Newsletter!
(Tap to Join!)
(Click to Join!)
I understand that by providing my email address, I agree to receive emails from UPMC. I understand that I may opt out of receiving such communications at any time.
Sorry, an error occurred. Please try again later.
Get Healthy Tips Sent to Your Phone!
Heart Health for Pregnant Women
Dr. Berlacher said some women may experience chest pain, shortness of breath, and heart palpitations during pregnancy. Normal body changes are usually behind these symptoms. For example, your expanding uterus and rib cage may place additional pressure on your diaphragm, which may lead to shortness of breath.
Women who are diagnosed with pregnancy-related heart conditions, such as preeclampsia, gestational diabetes, and pregnancy-induced hypertension, are at a higher risk of suffering cardiovascular problems later in life.
Dr. Berlacher said most women can take simple steps to stay heart-healthy while pregnant: Stay moderately active, eat healthy, regular meals, and follow your doctor's instructions on medications, such as prenatal vitamins.
"Just because you're pregnant, doesn't mean you can't be active," Dr. Berlacher said. "We just want you to be a little more cautious in terms of physical activity, no need to push to exhaustion or start training for your first marathon when you are pregnant."
Pregnant women who experience fainting, extreme swelling, lightheadedness, or dizziness should discuss these symptoms with their obstetrician.
Heart Health for New Moms
Stress and lack of sleep may be the biggest challenges to a new mom's health, Dr. Berlacher said, which may contribute to development of heart disease later in life. Though they may be occupied with new motherhood, women should still take time to schedule regular appointments with their primary care physician.  If they have specific questions about their cardiac risk, they should consider a preventive screening with a cardiologist.
"New moms need healthy ways to deal with stress," Dr. Berlacher said. "Breathing, meditation, exercise, reading books. Find something that calms you."
Dr. Berlacher said new research from Magee-Womens indicates that breastfeeding longer than six months may have some vascular health benefits for new moms who are at higher risk.
"It's not well-understood yet, but we're learning that lactation may hold benefits for new moms, not just babies," she said. "Which is really exciting."
Connect with UPMC
Built upon our flagship, UPMC Magee-Womens Hospital in Pittsburgh, and its century-plus history of providing high-quality medical care for people at all stages of life, UPMC Magee-Womens is nationally renowned for its outstanding care for women and their families.
Our Magee-Womens network – from women's imaging centers and specialty care to outpatient and hospital-based services – provides care throughout Pennsylvania, so the help you need is always close to home. More than 25,000 babies are born at our network hospitals each year, with 10,000 of those babies born at UPMC Magee in Pittsburgh, home to one of the largest NICUs in the country. The Department of Health and Human Services recognizes Magee in Pittsburgh as a National Center of Excellence in Women's Health; U.S. News & World Report ranks Magee nationally in gynecology. The Magee-Womens Research Institute was the first and is the largest research institute in the U.S. devoted exclusively to women's health and reproductive biology, with locations in Pittsburgh and Erie.