As the largest non-governmental employer in Pennsylvania, UPMC is a force of 80,000 neighbors who can be counted on in their communities. They're your friends, family members, coaches, and community volunteers who commit their time to keep all of our neighborhoods humming.
Just a glimpse of how our employees' commitment extends beyond the hospital walls:
Find out what else UPMC is doing to serve communities across Pennsylvania in its 2019-20 Community Benefits Report.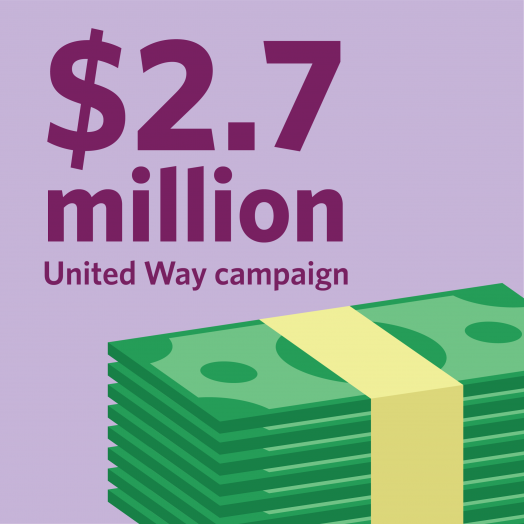 UPMC employees also:
Raised nearly $22,000 for the March of Dimes in 2016, and more than 250 employees participated on UPMC Health Plan's walking team.
Through UPMC's Center for Engagement and Inclusion, our employees are encouraged to participate in monthly Lend A Hand opportunities to volunteer time, donate items, or attend events, enjoying the rewards of giving back to their communities.
In 2016, UPMC provided an average of $2.6 million a day in community benefits.
It's all a part of UPMC's devotion to building upon the long tradition of delivering Life Changing Medicine close to home and contributing to the vibrancy, health, and relationships with all of the communities UPMC employees live in.
Find out what else UPMC is doing to serve communities across Pennsylvania in its 2016-17 Community Benefits Report.
Never Miss a Beat!
Subscribe to get more information on health care policy and how it impacts you
(Tap to Join!)
(Click to Join!)
I understand that by providing my email address, I agree to receive emails from UPMC. I understand that I may opt out of receiving such communications at any time.
Sorry, an error occurred. Please try again later.
Get Healthy Tips Sent to Your Phone!
Connect with UPMC
Headquartered in Pittsburgh, UPMC is a world-renowned health care provider and insurer. We operate 40 hospitals and 800 doctors' offices and outpatient centers, with locations throughout Pennsylvania, Maryland, New York, West Virginia, and internationally. We employ 4,900 physicians, and we are leaders in clinical care, groundbreaking research, and treatment breakthroughs. U.S. News & World Report consistently ranks UPMC Presbyterian Shadyside as one of the nation's best hospitals in many specialties and ranks UPMC Children's Hospital of Pittsburgh on its Honor Roll of America's Best Children's Hospitals. We are dedicated to providing Life Changing Medicine to our communities.