We've got the cutest cookies at UPMC Magee-Womens Hospital.
Don't take our word for it: Check out these oh-so-adorable photos of Magee newborns donning cookie onesies and hand-knit gingerbread hats. Santa and Mrs. Claus even stopped by the maternity unit to greet these holiday-birthday babies.
Dressing newborn babies at Christmastime is a tradition at Magee. In the past, our babies celebrated the holiday season bundled in Christmas stockings and tiny reindeer hats and blankets. This year's gingerbread caps were knit with love by Magee nurse Caitlin Pechin.
For more photos of this event, visit Magee-Womens Hospital of UPMC on Facebook.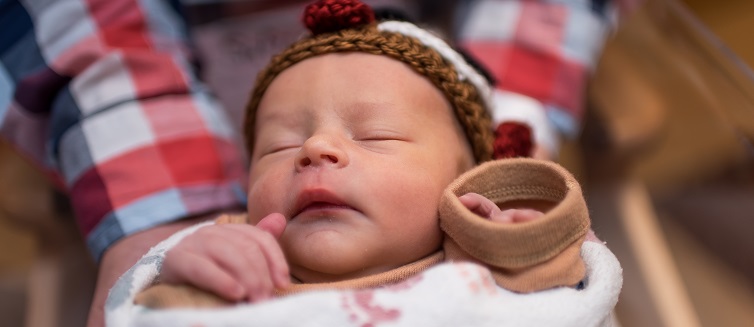 Never Miss a Beat!
Subscribe to Our HealthBeat Newsletter!
I understand that by providing my email address, I agree to receive emails from UPMC. I understand that I may opt out of receiving such communications at any time.
Thank you for subscribing!
You are already subscribed.
Sorry, an error occurred. Please try again later.
Get Healthy Tips Sent to Your Phone!
Connect with UPMC
For more than a century, UPMC Magee-Womens Hospital has provided high-quality medical care to women at all stages of life. UPMC Magee is long renowned for its services to women and babies, but also offers a wide range of care to men as well. Nearly 10,000 babies are born each year at Magee, and the hospital's NICU is one of the largest in the country. The U.S. Department of Health and Human Services recognizes Magee as a National Center of Excellence in Women's Health, and the Magee-Womens Research Institute is the largest research institute in the U.S. devoted exclusively to women's health and reproductive biology.