UPMC's Life Changers are employees who go above and beyond to make a difference in the lives of patients and staff, friends and family, and the community. Follow their stories in this monthly series to learn how UPMC employees are changing lives in more ways than one.
Can a weekend away designed specifically for stroke survivors and their caregivers somehow refresh everyone involved? Yes, according to UPMC's Stacey Mlodzianowski, an occupational therapist specializing in stroke recovery. When Stacey attended her first stroke camp as a volunteer, she knew she had discovered something unique.
"Every year that I volunteer at stroke camp, I witness magic," she says. "It is truly amazing to watch couples and family members support and love each other in this manner."
Never Miss a Beat!
Subscribe to Our HealthBeat Newsletter!
(Tap to Join!)
(Click to Join!)
I understand that by providing my email address, I agree to receive emails from UPMC. I understand that I may opt out of receiving such communications at any time.
Sorry, an error occurred. Please try again later.
Get Healthy Tips Sent to Your Phone!
A 'New Perspective'
Stacey is referring to Retreat & Refresh Stroke Camp, an Illinois-based nonprofit that has successfully organized over 200 camps since its inception in 2004. The weekend getaways are designed to address the unique needs of stroke survivors and their caregivers.
"I offered to volunteer when I worked as an occupational therapist in New Jersey to get away from the work grind," she says. "Little did I know the weekend would be such a rewarding — and life-changing — experience."
A typical weekend retreat at the camp includes companionship, education sessions, good food, helpful stroke resources, luxurious pampering, music, and live entertainment, as well as outdoor activities like hiking, walking, rock climbing, fishing, and swimming.
Some camps offer indoor games like Nintendo Wii. The American Stroke Association says that these activities can produce "significant motor improvement in speed and extent of recovery" after a stroke.
Perhaps most importantly, the stroke camp provides a sense of fellowship and belonging to everyone involved. "The weekend gives me a new perspective on how I approach treatment with my own patients," she says. "It is vital to make family education and training part of stroke rehabilitation," says Stacey. "Caregivers are impacted by their loved one's stroke, but sometimes can feel isolated. At the camp, survivors and caregivers build a network of support and encouragement that extends far beyond the weekend through social media, support groups, and personal communication. Many who attend feel they have become a family."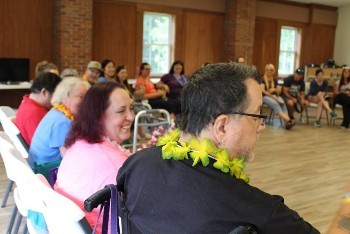 Image: Retreat & Refresh Stroke Camp
Bringing It Closer to Her Patients
Stacey knew she wanted to bring the idea to Pittsburgh when she began working at UPMC. "I set up preliminary meetings and, with the help of some coworkers, a grant was approved to host the first-ever stroke camp in Pennsylvania," she explains. "Eighteen months later, the UPMC Rehabilitation Institute and the UPMC Stroke Institute sponsored a Retreat & Refresh Stroke Camp in Slippery Rock, Pennsylvania."
Image: Retreat & Refresh Stroke Camp

The weekend was a hit with attendees, their caregivers, and the many volunteers who made it a success. In fact, the Pittsburgh stroke camp is now an annual event.
"As an occupational therapist, I find volunteering and coordinating Retreat & Refresh Stroke Camp in Pittsburgh rewarding for many reasons," says Stacey. "I am able to witness a survivor on their journey from the hospital, back home, and into the community."
When Feeling Better Means Getting Better
Survivors know how different daily life is after a stroke. They return to environments where they once felt capable, independent, and optimistic. Constant language and information processing challenges, occasional memory lapses, communication issues, fear of recurrence, and managing significant lifestyle changes can be exhausting. Too often, stroke survivors experience depression because they miss doing so many of the things they once enjoyed.
"This past summer, a few survivors went fishing on the Ohio River using adaptive equipment," recalls Stacey. "Getting the chance to do a favorite hobby again meant so much to them. Everyone was smiling," she recalls.
For survivors and caregivers stroke camp provides a weekend of peace, support, tranquility, and comfort that can help restore their optimism. "Stroke camp is more than a fun weekend," says Stacey. "It is a place to learn that there are ways of adapting an activity that makes it possible with their new abilities."
To learn more about Retreat & Refresh Stroke Camp, visit www.strokecamp.org or call 309-688-5450.
Life changers like Stacey Mlodzianowski and her team are committed to your care and recovery. If you or a loved one has been affected by stroke, call the UPMC Rehabilitation Institute at 1-877-AT-REHAB.
Connect with UPMC
Headquartered in Pittsburgh, UPMC is a world-renowned health care provider and insurer. We operate 40 hospitals and 800 doctors' offices and outpatient centers, with locations throughout Pennsylvania, Maryland, New York, West Virginia, and internationally. We employ 4,900 physicians, and we are leaders in clinical care, groundbreaking research, and treatment breakthroughs. U.S. News & World Report consistently ranks UPMC Presbyterian Shadyside as one of the nation's best hospitals in many specialties and ranks UPMC Children's Hospital of Pittsburgh on its Honor Roll of America's Best Children's Hospitals. We are dedicated to providing Life Changing Medicine to our communities.