Relationships can be exciting and confusing, and become the focus of our daily lives. Counting the days (or minutes) until you see that person again wondering what to wear determining what makes him or her happy and of course, simply defining the relationship are facets of every new connection. Will it last? Is it love or is it lust? No matter what our age, romantic relationships are both thrilling, and at times, uncertain.
Teenagers and Relationships
Imagine what it is like to navigate relationships as a teenager today. Their world is one filled with social media, temptations, and new levels of peer pressure. The ways in which teens communicate with each other has changed – opening doors for next-level verbal and visual interactions, which also open up opportunities for unhealthy perspectives, as well as impulsive behavior.
This includes:
Sexting (sending nude or semi-nude images to one another with suggestive language)
Following others' social activity (which can lead to stalking)
Pretending to be someone you're not by setting up fake profiles (or worse, communicating with someone whose profile is false)
Comparing one's appearance or lifestyle to another.
These can promote insecurity and, at times, anxiety. Researchers are finding more harm than od when it comes to the effects of social media on young people, and dating and other online communities are no exception.
Social media, which is nearly replacing the interpersonal interactions formerly preferred during dating, is just another tool to manipulate and perpetuate those qualities that contribute to unhealthy relationships. Statistics show that nearly 60 percent of teens know someone who has been physically, sexually, or verbally abused in a dating relationship.
While that number may seem grim, adults can be a positive influence in their child's life by listening, watching, talking, and encouraging them during these dating years. As with any topic, the first step in ensuring their safety is to establish trust and keep open the lines of communication. This means not only expecting your teen to listen to you but also for you to listen to them. Adults are a long way from the dating game and trying to fit in with peers. The challenges our young people are up against today extends beyond the stress of getting and keeping a boyfriend or girlfriend.
Never Miss a Beat!
Subscribe to Our HealthBeat Newsletter!
(Tap to Join!)
(Click to Join!)
I understand that by providing my email address, I agree to receive emails from UPMC. I understand that I may opt out of receiving such communications at any time.
Sorry, an error occurred. Please try again later.
Get Healthy Tips Sent to Your Phone!
Expectations and Pitfalls
Fitting in and caring about what their peers think of them is not a new concept in the life of a teenager. Friendships can heavily influence our youth today – in positive and negative ways. Parents and teachers may think that setting an example or telling young men and women what's best for them is enough. However, it's the acceptance and inclusion from teens' peers that speaks volumes and validates who they are in the moment.
Keeping a relationship or maintaining social status is as important as ever, and if they are out of balance, it can take an emotional toll on a young person.
Adolescence is a time of soul searching and trying to determine who and what matters. For some, it may mean standing out in the crowd. For others, it could mean falling in line with the majority, no matter what the consequence. If a teen is struggling with self-esteem and self-confidence, they may feel that they need to do whatever is necessary to fit in. Choosing unhealthy habits or relationships to avoid being alone often feels easier than standing up for what is right.
Often teens assume adults do not understand them or their challenges since they are older. It's the age-old tug-of-war scenario where the parent believes they know better and the teen believes the parent is simply trying to assert their control and knows nothing. The term "growing pains" is not without merit. Most teens and parents argue at some point in their lives. It's not a secret that hormones, stress, and fatigue can create a moody teen who appears argumentative or withdrawn from time to time.
The Red Flags of Teen Dating
Yet, parents know their child best and can determine when their son or daughter is struggling. While they may not share the details of their romantic relationship, if you observe the following warning signs, waste no time having an open, honest conversation with your child, teachers, coaches, other friends and family, and even a counselor. Chances are, if you are witnessing change, so are the other people in your child's life. You may need extra support if you notice your teen is:
Dropping out of hobbies and extra-curricular activities they used to enjoy.
Spending all their free time with their boyfriend or girlfriend.
Abandoning friends and family.
Sleeping more or less than usual.
Not sleeping at all.
Showing a change in appetite or weight that changed significantly.
Drastically changing their appearance – perhaps to please the boy/girlfriend.
Failing or allowing grades to plummet.
Inconsistent behavior and moods (think roller coaster).
Angry or frequently displaying emotional outbursts and defiance.
Lying and sneaking out to see their boy/girlfriend.
6 Tips for Parents
We may think our kids tune us out, however, they absorb advice and remember conversations down the road. Make sure you're talking, though, and not lecturing. Don't jump to conclusions or interrupt with solutions or opinions. Provide a safe place for your teen to open up and you likely will get a more honest depiction of the situation and their feelings.
Certainly make your expectations, rules, and own feelings clear, but in doing so, let your teen know that you're supportive and want the best for them now and in future relationships. In every conversation, let them know you're on their side.
Remind your teen that in any relationship, it's OK to disagree. Having an argument or conversation shouldn't be about winning or losing. Shift the idea of control to compromise, because no relationship should be one-sided. Additionally, being assertive and standing your ground when a person's convictions or choices are challenged isn't stubborn. Talk about the differences between control and opinion, as well as compromising and confidence. If it gets to the point where fear creeps into the relationship and one person isn't comfortable speaking his or her mind for fear of retribution, it's a red flag.  Teens should feel able to wear the clothing they choose, where they want to go, and do what they like to do – with other people – without worrying their partner will become angry by punishing them either with silence or violence.
Follow these tips when approaching your teen about their relationship – especially if it or your child seems troubled.
Consistency is key. Parenting today isn't easy. But you can strike a balance between empathy and exhibiting strength. Remember, you are your teens' parent, not their friend. The al is not to be popular or liked all the time by your teen. Enforcing the rules and listening to their personal struggles or acknowledging changes in behavior can benefit you both.
Lessons Learned. Everything is a "teachable moment." Incorporate the stories they may have shared about friends, or what you saw on TV shows, movies, or heard in music lyrics, on the news, etc. Draw from your own personal experiences to bridge the age gap, and discuss healthy and unhealthy relationships.
Role Model. While it may seem as if we're invisible in their world, needed only for money or transportation, teens are watching what we say and what we do. Are you in a healthy relationship? Do you respectively speak up for yourself and treat others kindly? Think about how you set an example at home, as well as how the other people in your child's life demonstrate respect and compromise in personal and professional situations. When you see something good or bad, talk about it.
Stay Positive. Conversations about relationships do not need to focus solely on risky behavior or negative consequences. Conversations can also address factors that promote healthy adolescent development and relationships.
Participate. Everyone is busy but take an active interest and role in your young teen's life. Find activities to do together that will help build on a foundation that makes parenting not so scary or combative when the time you need time for communication and reinforcing rules.
Accept Mistakes. You and your teen will make them. Still, you're responsible to continue to guide them, enforce the rules, and help them make responsible choices to empower them now and later. It's a balance between showing sensitivity and maintaining authority.
10 Tips You Can Share with Your Teen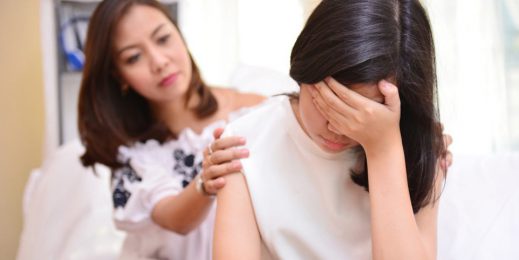 Let your teen know that they are not alone even if they feel like it. No one person may have all the answers, but there are plenty of people who care about their safety and happiness. Remember, adults have a perspective and life experiences they simply can't have at this point in their life. And everyone has experienced the highs and lows of romantic partnerships. While they begin with promise and euphoria, there may be times when they very wrong and your teen may feel isolated, lost, scared, or filled with regret and don't know what to do. Below are tips to apply when your teen approaches you about their concerns. Just as you want to be heard, extend the same courtesy to your teen.
Don't Assume. Be open to a different opinion or perspective. Although we or a friend may not be in favor of your relationship, don't assume it's because of jealousy or control. Perhaps we see something you don't and remember, we want the best for you. Just as you don't want people to assume the worst in you or your partner, don't assume the worst in others, either.
Talk to someone you trust. Communication occurs when things are ing well and when things are not going well. You have to talk about the tough stuff and ugly feelings just as much as the lovey-dovey, "everything is wonderful" stories. That's because nothing and nobody is all good or all bad. We can lose perspective and it takes time to really get to know somebody. If your boyfriend or girlfriend encourages you to stop talking to people who know and love you and wants to be the center of your universe, that's a red flag.
Safety First. You know drugs, alcohol, and physical violence is wrong and dangerous. Being made to do something you don't want to do – however big or small – by threatening violence is a deal-breaker. Don't make excuses. Make a plan to find immediate safety and to avoid these situations altogether, especially if it's a pattern with your significant other.
Maintain Perspective. Feelings may be intense right now and if your relationship is at an all-time high or all-time low, nothing stays the same. Look at the bigger picture rather than defend something you know is wrong such as investing all your time and energy in one person 24/7. Relationships should complement your life – not define it.
Limit your social media. Take a break from apps, texting, and websites that drain your energy and self-confidence. Communicating with others should include face-to-face interaction. Live your life … don't be a spectator in other people's lives. Understand, too, that what is posted online is a filter of what likely is reality. Nobody puts the negative out there all the time. Whether it's another boy or girl who seems to "have it all," or the latest party that you didn't know about, what you see online is likely manipulated. Too much social media eats up time that can be devoted to doing meaningful activities spent with people you care about.
Maintain other friendships, interests, and hobbies. Limit your time spent online, but don't limit or ignore the friendships, family, and other interests you enjoyed prior to your romantic relationship. These people and places also bring joy to your life and can be a support should the relationship end or hit a rough patch. If you isolate yourself from others or forget the things that you enjoy and also make you an interesting person, you will begin to think you're nothing if you're not a part of a couple.
Think before you hit "send." Never send suggestive or compromising photos or text messages. Nothing is deleted for od and it can be used as blackmail later on. Anyone who cares about you won't ask you for such revealing photos or texts. Just say no.
Never make promises.  Telling someone you will do something to please them jeopardizes your well-being and shouldn't be a trade-off just to keep the romantic relationship. Besides, not all promises can be kept since a family obligation, illness, schoolwork, or personal activity could change your schedule last minute.
Honor yourself. Listen to your gut instinct when you recognize red flags.
Communicate. Talk to a trusted friend, adult, and/or a counselor if extra support or advice is needed.
Unhealthy romantic relationships come in all forms and can begin in the early teen years. Whether that relationship exists at the expense of other friendships or interests, or it clearly has become abusive, controlling, and destructive, the sooner it's addressed, the better. These national hotlines can be a resource for you or your teen 24 hours, 7 days a week.
If you're looking for a counselor, please contact the PinnacleHealth Psychological Associates at UPMC Pinnacle by calling (717) 231-8360. Other resources include:
National Dating Abuse Helpline: 1-866-331-9474, 1-866-331-8453 (TTY)
National Domestic Violence Hotline: 1-800-799-SAFE (7233), 1-800-787-3224 (TTY)
Rape, Abuse & Incest National Network (RAINN) Hotline: 1-800-656-HOPE (4673)
When Is It Abuse?
Sometimes teens don't know what abuse looks like. Below are terms to help them identify if they are in an unhealthy relationship.
Physical abuse: Any act of using force against the will of another such as choking, pushing, slapping, punching, hitting, grabbing hard, or breaking objects to scare you. If someone uses their body to prevent you from leaving an area or room, that's also physical abuse. Bruises or cuts don't always tell the story.
Emotional abuse: When someone tells you that you're wrong, makes you feel guilty, or insists you don't deserve to be loved, and blames you for their behaviors, they are playing games and controlling you with lies and uncertainty.
Verbal abuse: Name-calling and insulting your appearance, intelligence, abilities, feelings, choices, and even your friends and family.
Digital abuse: If someone insists on knowing your passwords or see all of your social media content, asks you to not communicate or follow friends (male and female), or they hack into your accounts to "stalk" you and manage your profiles, that's abuse.
Jealousy: It's not flattering when someone tries to control what you do and who you hang out with, or accuses you of behaviors and intentions that are false.
Peer pressure: Any type of coercion in participating in the use of drugs, alcohol, or behaviors that makes you uncomfortable and/or is illegal, dangerous, or embarrassing.
Threats: Any type of consequence that intimidates you physically or emotionally such as threatening harm to you, friends, family, or themselves, as well as threatening to break up with you, or share secrets that put them in a position of power or control and you in one of fear.
Sexual violence: Insists you have sex or perform/receive sexual advances when you don't want it, or pressuring you to not use condoms or birth control.
Connect with UPMC
UPMC Harrisburg is a nationally recognized leader in providing high-quality, patient-centered health care services in south central PA. and surrounding rural communities. UPMC Harrisburg includes seven acute care hospitals and over 160 outpatient clinics and ancillary facilities serving Dauphin, Cumberland, Perry, York, Lancaster, Lebanon, Juniata, Franklin, Adams, and parts of Snyder counties. These locations care for more than 1.2 million area residents yearly, providing life-saving emergency care, essential primary care, and leading-edge diagnostic services. Its cardiovascular program is nationally recognized for its innovation and quality. It also leads the region with its cancer, neurology, transplant, obstetrics-gynecology, maternity care, and orthopaedic programs.