"The testimonials were a major factor for me when I was looking into the program — just to see others in the same situation recovering." –Zack
Never Miss a Beat!
Subscribe to Our HealthBeat Newsletter!
(Tap to Join!)
(Click to Join!)
I understand that by providing my email address, I agree to receive emails from UPMC. I understand that I may opt out of receiving such communications at any time.
Sorry, an error occurred. Please try again later.
Get Healthy Tips Sent to Your Phone!
The Challenge: Back-to-Back-to-Back Concussions
Ottawa native Zack had just begun his first semester of college in 2016 when he sustained his first serious concussion. Studying economics and political science at Dalhousie University in Halifax, he went out for homecoming night. The next morning, he woke up feeling disoriented and confused, and with a splitting headache. He realized immediately that he must have hit his head.
"I had concussions from rugby and hockey in high school, but I always felt better in a few days. This was different," says Zack.
The symptoms lingered for weeks, prompting Zack to go home to Ottawa to recover. When he returned to school, still felt "slightly off." In January 2017, Zack fell backwards off a chair and hit his head again. The symptoms returned and forced him to take a semester off from school.
He gradually started to feel better. While playing pickup basketball with friends a month later, he was accidentally elbowed in the back of the head. "I was immediately nauseous," says Zack. "The headaches, disorientation, and eyestrain came back and continued for several months."
Zack's Path to UPMC for Concussion Treatment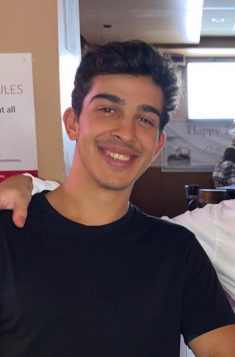 He was diagnosed with a concussion by his primary doctor and told to avoid the overstimulating activities that could trigger his symptoms. But Zack didn't get better.
"I had this never-ending barrage of symptoms and just felt like I was in limbo," Zack says.
He tried all types of treatment options — chiropractic care, massage therapy, ophthalmology — even some he considered to be "not guaranteed or alternative". Each specialist focused only on their area of expertise. Zack waited for results, but they did not come.
By late summer of 2017, he was doing more online research and hoping to return to school in September. That's how he discovered the UPMC Sports Medicine Concussion Program and read about treatments that meet a concussion head-on.
"The testimonials were a major factor for me when I was looking into the program — just to see others in the same situation recovering," Zack says. He called UPMC and spoke with the concussion team.
They provided a cost estimate for his treatment in the United States and helped with his travel plans. "It was pretty seamless; they made it easy," Zack says.
The Solution: Traveling to Pittsburgh for Active Treatment
In October 2017, Zack, a Pittsburgh Steelers fan, touched down in Pittsburgh. He was excited to catch a game — and to visit the UPMC Sports Medicine Concussion Program. Clinical and executive director Micky Collins, PhD and his team of concussion specialists met with Zack to talk through the process. They also conducted a comprehensive series of diagnostic tests, including having him run on a treadmill and perform tasks to track his eye movements.
They diagnosed him with a vestibular concussion and prescribed an active treatment plan. It consisted of gradually exposing him to stimuli that made him uncomfortable — bright light, loud noise, and overcrowded areas — and anything that made him think really hard. That gradual exposure retrains the brain to adapt to the sights, sounds, and activities of daily life.
Zack practiced his treatment during a short stay at the clinic before returning home to Canada, where he worked hard to push himself. Zack traveled back to Pittsburgh in November 2017 for a check-in, and kept in touch with the concussion team over the phone.
"I really appreciated the proactive treatment and being able to play such an active role in my recovery," he says. "Dr. Collins had a straightforward approach — making it clear up front that I'd have to work hard and push myself. Feeling like it's getting worse before it gets better is all part of the process. UPMC helped instill this mindset in me to just go hard; I really credit my doctors with that."
The Results: Getting Worse Before Getting Better
Continuing to follow his treatment plan at home, Zack forced his brain to readjust to homework and busy days on campus. Reaching his goal — to return to school for the spring 2018 semester — was far from easy. But after months of gradually pushing himself, the symptoms resolved late that spring. While occasional headaches or fogginess still occurred, Zack considered himself able to do anything he liked without thinking about his concussion.
"Every specialist I had gone to before had a certain focus in trying to resolve my symptoms," Zack says. "The eye doctor thought it was a sight issue and the chiropractor a spine issue. What I found was that UPMC focused on a multitude of sources — vestibular, ocular, cognitive, neck, etc. It was so comprehensive and beneficial to my recovery."
Zack graduated from Dalhousie University in spring 2021 and plans to attend law school. Unfortunately, he received another blow to the head in early 2021. COVID-19 made the decision to travel to Pittsburgh more difficult. Fortunately, he was able to connect with the UPMC Sports Medicine Concussion Program team via telemedicine.
"I really want to stress the importance of being proactive and pushing against your symptoms," Zack says. "You get the most treatment from this program and really maximize your recovery by doing that."
Visit our website to learn more or call us at 412-432-3681 for an appointment.
Connect with UPMC
An athletic lifestyle carries the potential for injury. Whether you're an elite athlete or a weekend warrior, UPMC Sports Medicine can help. If you are looking to prevent, treat, or rehabilitate a sports injury, our multidisciplinary team of experts can help you get back into the game. If you are seeking to improve your athletic performance, we can work with you to meet your goals. We serve athletes and active people of all ages and experience levels. Our goal is to help you keep doing what you love. Visit our website to find a specialist near you.