A UPMC obesity weight loss practice makes "winners out of losing."
When Dan Skaris' size 42 pants started feeling snug, he knew it was time for a change. "I was determined not to buy the next size up," he says.
The 44-year-old is a manager for a nonprofit organization, spending most workdays sitting behind a desk. He and his wife Shawna, an oncology data specialist at UPMC Children's Hospital of Pittsburgh, live in Pittsburgh's Brookline neighborhood with their son Jackson, 13.
Never Miss a Beat!
Subscribe to Our HealthBeat Newsletter!
(Tap to Join!)
(Click to Join!)
I understand that by providing my email address, I agree to receive emails from UPMC. I understand that I may opt out of receiving such communications at any time.
Sorry, an error occurred. Please try again later.
Get Healthy Tips Sent to Your Phone!
Dan's Story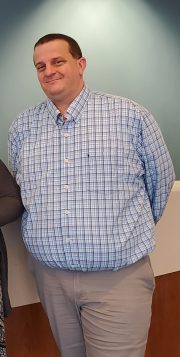 At 300 pounds, Dan was just starting to take blood pressure medicine. Short walks would leave him winded, and he'd get lightheaded after bending to tie his shoes. He knew he had to lose weight for himself and for his family. And he knew he needed help to do it.
The journey to a happier, healthier life
"I started searching for weight loss programs online," says Dan. That's how he found the Comprehensive Weight Loss Program led by Vicki March, MD. Dr. March, whose practice is part of Solano & Kokales Internal Medicine Associates-UPMC, is board-certified in both internal medicine and obesity medicine. She has directed weight loss programs at UPMC since 2006.
Dr. March's care team includes physician assistant Marianne Talluto and registered dietitian Rachael Solomon. Both have special training and extensive experience with medical weight loss programs. "Our philosophy is that obesity is a disease and people need help with it," says Dr. March. "We're very passionate about what we do."
After his initial appointment in November 2020 with Rachael, Dan knew he had found the right place. "They were offering a service that I believed would help me conquer my weight challenges," he says.
Over the next nine months, Dan lost 125 pounds. He now wears size 32 pants and enjoys walking in South Park with Jackson. "When we look at pictures together, he asks, 'Is that you, Dad?' I'm a totally different person now," says Dan.
"Everything just clicked"
Following a healthy diet and getting more exercise are important steps for achieving and maintaining a healthy weight. That's a total lifestyle change that many people find difficult to make. "There's no magic to losing weight," says Marianne. "People have to be ready — and Dan was ready."
Dan's weight loss journey began at the height of the COVID-19 pandemic, so nearly all his appointments were done online. "I never got time off work during the pandemic, so telemedicine was a godsend," he says. "I give kudos to UPMC for making it easy and safe for me to see Marianne virtually. When she was working from home, it felt like I was right there in her kitchen with her."
The first time he met with Marianne, they discussed the different weight loss services available — from a healthy eating and exercise plan to weight loss medicines (if needed) and bariatric surgery. "Surgery wasn't a good option for me because it wouldn't solve the problem of my bad eating habits," he explains.
"At first, the healthy eating part made my head spin a bit, but then everything just clicked," says Dan. "After the initial weight loss, I started to believe that I could actually do this. Now my whole family has adopted a healthier lifestyle."
Some people may need additional support to stay on track. In addition to weight loss medicines, the program offers medically supervised plans of care.
Determined to succeed
The Comprehensive Weight Loss Program focuses on helping people lose weight gradually and steadily so that they are more successful at keeping the weight off. Dan says he contacted the
program with the hope of just stabilizing his weight and maybe losing a few pounds. "Our target weight loss goal for everyone is one to two pounds per week," says Marianne.
Dan averaged a weight loss of four to eight pounds per week, which was well above the one to two pounds typically shed by patients in the program. Marianne and Rachael say his focus and determination made all the difference. "From day one, he was dedicated to changing his life," says Marianne, who still meets with Dan once a month. "He's intent on keeping the weight off and staying active — and he's really enjoying life."
"With weight loss management, there's no end date," adds Dr. March. "It requires lifelong care. We want people to keep the weight off."
Dan, however, gives Marianne and Rachael much of the credit for his 125-pound weight loss. "I owe my success to them," he says. "They made me a winner at losing." Before starting the program, Dan says taking out the trash was his only daily physical activity. "Now I'm either doing four and a half miles on the treadmill or going to the gym."
"I wouldn't hesitate to recommend this program," says Dan. "They've made a world of difference for me and I can't thank them enough."
This patient's treatment and results may not be representative of all similar cases.
Editor's Note: This article was originally published on , and was last reviewed on .
Connect with UPMC
UPMC Bariatric Services is here to help if you're struggling with obesity and want to lose weight. We offer both surgical and nonsurgical weight loss plans and can help you find the right path for a weight-loss journey. We will work with you to discuss your needs and develop and individualized treatment plan. We meet the highest level of national accreditation for bariatric surgery centers, and our team provides complete care. We offer our services at UPMC locations throughout Pennsylvania and New York. Visit our website to find a provider near you.