Grace Brueggman was 17 years old and running track when she first experienced hip pain.
In fact, the pain affected her quality of life so much that she and her family visited multiple specialists. She was ultimately diagnosed with hip dysplasia in both hips.
Thanks to treatment at the UPMC Children's Hospital of Pittsburgh's Adolescent and Young Adult (AYA) Hip Preservation Program, Grace overcame the condition. Now 23 years old, she's again leading an active lifestyle.
A Painful Condition
Hip dysplasia occurs when the hip socket is too small to fit the top of the thigh bone. It makes the hip unstable, causing pain and cartilage damage. It also can lead to arthritis.
Grace's hip condition caused significant pain. At the time, the Pittsburgh native was attending boarding school in South Carolina and running on the track team.
Her family did research on her condition and explored several treatment options in South Carolina and across the country. They considered the child and young adult hip preservation program at Boston Children's Hospital but decided instead to manage Grace's pain and postpone surgery.
By the time she returned to her hometown to attend the University of Pittsburgh and compete on the club gymnastics team, the pain had become too much. Grace and her family revisited treatment options and learned about the AYA Hip Preservation Program at UPMC Children's.
Never Miss a Beat!
Subscribe to Our HealthBeat Newsletter!
(Tap to Join!)
(Click to Join!)
I understand that by providing my email address, I agree to receive emails from UPMC. I understand that I may opt out of receiving such communications at any time.
Sorry, an error occurred. Please try again later.
Get Healthy Tips Sent to Your Phone!
Care Close to Home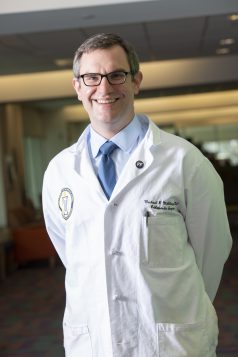 Grace's mother Judy read about Michael McClincy, MD, pediatric orthopaedic surgeon and leader of the AYA Hip Preservation Program at Children's.
Dr. McClincy trained at Boston Children's Hospital, which specializes in the periacetabular osteotomy (PAO) surgical treatment for hip dysplasia. He now performs the procedure in Pittsburgh.
The AYA Hip Preservation Program at Children's aims to help hip joints work better to improve the person's quality of life. The care team works to reduce pain and help patients delay or avoid hip replacement surgery. They see teens and adults up to age 35 who have chronic pain because of hip conditions.
"While we see a wide range of people, we focus on those who have no more growing to do," Dr. McClincy says. "Many are athletes or active people whose sport or activity has made their pain worse, like Grace."
Grace's family was excited to learn she could get world-class treatment so close to home. They scheduled a consultation with Dr. McClincy.
The Right Treatment Plan
After meeting Dr. McClincy, Grace and her family knew her care was in the right hands.
"He really is just so awesome," Grace says. "He is a very available doctor. He never made us feel like he was in a rush, and he gave us space to talk through every question and concern we had. He was often saying things like, 'This is what I would do for my daughter,' which really instilled a lot of confidence in us that he had our best interests at heart."
For Grace's treatment, Dr. McClincy combined PAO with hip arthroscopy to address her hip dysplasia and a labral tear in one hip. Combining the procedures helped doctors treat both of Grace's problems in one operation, allowing for a quicker recovery.
Dr. McClincy connected the family with former hip preservation program patients who are willing to talk to current patients about their experiences.
"It was great to connect with other people around my age who had gone through the surgery so I could know more about what to expect," says Grace. She now shares her experience with current Children's hip patients.
"Dr. McClincy knows how much surgery and recovery can affect a person's life," Grace says. He asked questions to help determine the best time to schedule her surgery.
Grace had surgery on one hip and waited a year to have the same surgery on the other hip. She needed more time between surgeries to prepare mentally and the doctors at Children's were happy to accommodate her request.
An Active Outlook
Now 18 months out from her second hip surgery, Grace is happy to report that she has no pain or restrictions. She's pursuing a master's degree in robotics systems development at Carnegie Mellon University and stays active by rock climbing, skiing, playing tennis, or doing yoga.
On a recent trip to Colorado, Grace hiked two "14ers" (a mountain peak with an elevation of at least 14,000 feet).
When she reached the bottom of the second mountain, she felt tears welling up in her eyes. Beyond the emotional impact of conquering the summit, she was relieved to find that she was not in any pain.
"I never would have been able to do that before surgery," says Grace. "I was in shock, but so, so thankful. To others who are looking into the program, I would just say that it might take you a while to be thankful because it can be a rough recovery. But it comes. Be patient. There is a light at the end of the tunnel."
Hip Pain Care at UPMC Children's Hospital
More treatment options for young adults with hip joint issues have been developed in the last 10 years.
The AYA Hip Preservation Program at Children's provides expert level care in treating hip disorders and injuries. The program offers the latest techniques in both hip arthroscopy and PAO surgery. Dr. McClincy works with his patients to choose the surgical approach that's best for them.
In addition to hip dysplasia, Dr. McClincy treats all major structural hip conditions that affect adolescents and young adults. This includes femoroacetabular impingement (hip impingement), hip labral tears, and slipped capital femoral epiphysis.
Services available at Children's AYA Hip Preservation Program include:
A dedicated on-site physical therapist who has a key part of each patient's rehab.
3D printing and virtual surgery so the doctor can practice before the actual procedure.
Injections that can provide pain relief.
Excellence in orthopaedic surgery
Dr. McClincy is one of a handful of surgeons in the country trained in both hip arthroscopy and PAO. His experience in advanced hip preservation techniques improves the team's ability to develop patient-specific treatment strategies so that they can do the right surgery the first time. The program's patient-specific strategy means patients are less likely to need revision surgeries in the future.
A team approach to hip pain care
Experts in imaging, orthopaedics, and physical therapy come together to evaluate, diagnose, and treat patients at the hip preservation clinic.
Children's uses advanced imaging techniques, including CT and MRI scans, to make a diagnosis using the least amount of radiation. The expert nursing staff takes care of patients before and after hip surgery and helps get answers to patients' questions. The physical therapists are a key part of each patients' rehab experience before and after surgery.
Research and access to clinical trials
Children's AYA Hip Preservation Program also offers research studies that help advance hip disorder treatment. That means our patients get access to the newest treatments. Staff follow each patient's progress to ensure that we provide successful, long-lasting treatment.
For more information on the UPMC Children's AYA Hip Preservation Program or to make an appointment, call 412-692-5530 or visit us online.
Connect with UPMC
When you are dealing with bone, muscle, or joint pain, it can affect your daily life. UPMC Orthopaedic Care can help. As a national leader in advanced orthopaedic care, we diagnose and treat a full range of musculoskeletal disorders, from the acute and chronic to the common and complex. We provide access to UPMC's vast network of support services for both surgical and nonsurgical treatments and a full continuum of care. Our multidisciplinary team of experts will work with you to develop the treatment plan that works best for you. Our care team uses the most innovative tools and techniques to provide better outcomes. We also are leaders in research and clinical trials, striving to find better ways to provide our patients care. With locations throughout our communities, you can find a provider near you.