After hurting his right leg during a recreational ice hockey game in 2021, Joseph continued to play in discomfort for the remainder of the season. But three months after his hockey season ended, Joseph's pain still lingered.
"I had constant discomfort in my right hip, and I wasn't sure if I'd be able to play hockey again," says Joseph, a 42-year-old father of two. "I could barely play with my kids in the yard without feeling pain."
In the summer of 2022, Joseph decided to seek help. After visiting his primary care physician, Kathryne Buege, DO, as well as general surgeon Sean Cain, MD, to help diagnose the issue and rule out any abdominal injuries, they recommended he try physical therapy.
Never Miss a Beat!
Subscribe to Our HealthBeat Newsletter!
(Tap to Join!)
(Click to Join!)
I understand that by providing my email address, I agree to receive emails from UPMC. I understand that I may opt out of receiving such communications at any time.
Sorry, an error occurred. Please try again later.
Get Healthy Tips Sent to Your Phone!
Reducing Pain With Targeted Treatment
They referred Joseph to Scott Wozniak, PT, MDT, a physical therapist at UPMC's outpatient rehabilitation clinic in Erie Harborcreek, who was able to pinpoint and treat his hip pain.
Wozniak is certified in the McKenzie Method® of Mechanical Diagnosis and Therapy (MDT), a specialized type of physical therapy and musculoskeletal care that helps assess, manage, and treat back, neck, and extremity injuries.
Together, they worked to increase Joseph's range of motion in hi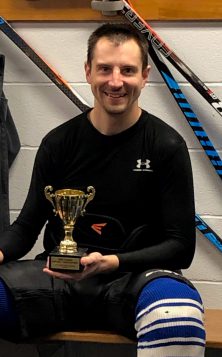 s hip and leg, using McKenzie hip exercises and other motion exercises.
"I was surprised at how fast physical therapy helped to reduce my pain and discomfort," says Joseph. "I had already seen some improvement within the first two weeks!"
Joseph continued to improve with each visit, increasing his range of motion and reducing his pain.
"The immense amount of progress that I made through Scott and his efforts were truly amazing," Joseph explains. "The change that I felt after working with him was like night and day. I can't thank him enough for all of the techniques that he taught me and the time that he spent with me to help me recover."
"Scott really took the time to listen to me and determine the reason behind my pain," says Joseph. "Thanks to him, I was able to run around and play with my kids again, and I'm back on the ice playing hockey."
McKenzie Method® is a trademark of the McKenzie Institute.
Connect with UPMC
The UPMC Rehabilitation Institute offers inpatient, outpatient, and transitional rehabilitation, as well as outpatient physician services so that care is available to meet the needs of our patients at each phase of the recovery process. Renowned physiatrists from the University of Pittsburgh Department of Physical Medicine and Rehabilitation, as well as highly trained physical, occupational, and speech therapists, provide individualized care in 12 inpatient units within acute care hospitals and over 80 outpatient locations close to home and work.