Can you flare your nares? Have you ever bonked your pate? Does your axilla smell fresh? If you (truthfully) answered yes to any of these questions, you probably aced anatomy 101.
Let's put your knowledge to the test. Here's a fun anatomy quiz that includes names of body parts you may not have known.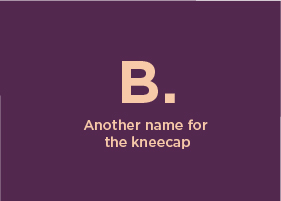 Share the quiz to show your results !
Just tell us who you are to view your results!
Ignore & go to results
How Well Do You Know Your Anatomy Vocabulary?
I got %%score%% of %%total%% right
%%description%%
Editor's Note: This quiz was originally published on , and was last reviewed on .
Get Healthy Tips Sent to Your Phone!
Connect with UPMC
Headquartered in Pittsburgh, UPMC is a world-renowned health care provider and insurer. We operate 40 hospitals and 800 doctors' offices and outpatient centers, with locations throughout Pennsylvania, Maryland, New York, West Virginia, and internationally. We employ 4,900 physicians, and we are leaders in clinical care, groundbreaking research, and treatment breakthroughs. U.S. News & World Report consistently ranks UPMC Presbyterian Shadyside as one of the nation's best hospitals in many specialties and ranks UPMC Children's Hospital of Pittsburgh on its Honor Roll of America's Best Children's Hospitals. We are dedicated to providing Life Changing Medicine to our communities.