You're never too young to spread a little kindness.
Newborns at UPMC Magee-Womens Hospital cozied up in red crochet cardigans, ties, and sneakers inspired by children's television icon Fred Rogers.
It was all in honor of World Kindness Day, an event celebrated on November 13. WQED asked Pittsburghers to celebrate the day by sporting cardigans and expressing kindness in the spirit of the late Mister Rogers.
Nurses transformed the nursery into Mister Rogers' Neighborhood for the event, while guests and staff alike welcomed them with a rendition of "Won't You Be My Neighbor?"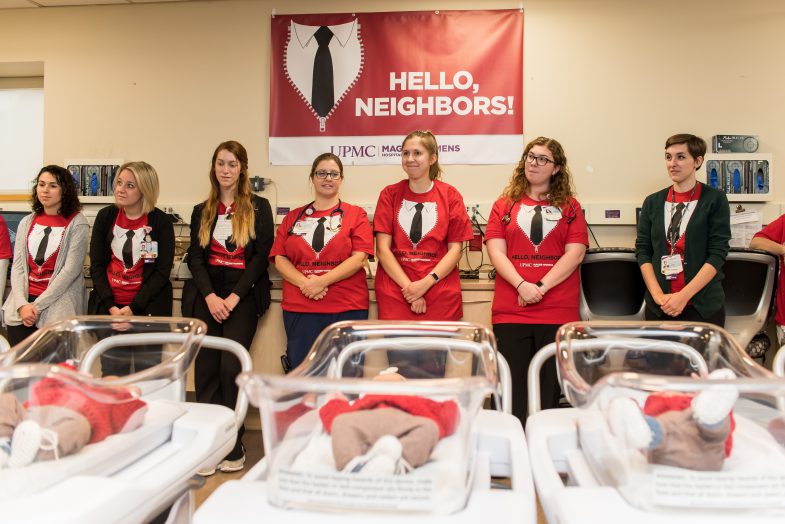 Never Miss a Beat!
Subscribe to Our HealthBeat Newsletter!
(Tap to Join!)
(Click to Join!)
I understand that by providing my email address, I agree to receive emails from UPMC. I understand that I may opt out of receiving such communications at any time.
Sorry, an error occurred. Please try again later.
Get Healthy Tips Sent to Your Phone!
And the babies were welcomed to the neighborhood by a particularly special guest—Joanne Rogers, wife of the former WQED star and Pittsburgh native.
Connect with UPMC
Built upon our flagship, UPMC Magee-Womens Hospital in Pittsburgh, and its century-plus history of providing high-quality medical care for people at all stages of life, UPMC Magee-Womens is nationally renowned for its outstanding care for women and their families.
Our Magee-Womens network – from women's imaging centers and specialty care to outpatient and hospital-based services – provides care throughout Pennsylvania, so the help you need is always close to home. More than 25,000 babies are born at our network hospitals each year, with 10,000 of those babies born at UPMC Magee in Pittsburgh, home to one of the largest NICUs in the country. The Department of Health and Human Services recognizes Magee in Pittsburgh as a National Center of Excellence in Women's Health; U.S. News & World Report ranks Magee nationally in gynecology. The Magee-Womens Research Institute was the first and is the largest research institute in the U.S. devoted exclusively to women's health and reproductive biology, with locations in Pittsburgh and Erie.