Cindy Beattie, 68, remembers how painful her knee used to feel at night. The pain was so bad, she couldn't get comfortable when she was trying to fall asleep. Cindy had been having knee issues for more than 15 years – ranging from torn cartilage and a torn meniscus to arthritis.
After receiving numerous treatments, such as steroid injections and arthroscopic surgery for meniscus tears – Cindy's doctor referred her to William Abraham, MD, an orthopaedic surgeon at UPMC Tri Rivers Musculoskeletal Centers, for knee replacement surgery.
Before her procedure, Dr. Abraham recommended Cindy undergo physical therapy with Amy Seeley, MPT. Amy is a physical therapist and facility director of the UPMC Rehabilitation Institute outpatient rehabilitation location in Mars.
"She was very thorough. I've been to a lot of physical therapy sessions with different therapists, and Amy was the most professional and down-to-earth," says Cindy, who lives close by in Valencia. "I was very pleased."
Cindy's knee was replaced in late February 2018 at UPMC Passavant–McCandless. She continued to see Amy for five weeks of orthopaedic post-surgical physical therapy.
"Amy was firmly encouraging, but reasonable on my capabilities. She pushed me," says Cindy, a retired registered nurse who worked in the post-anesthesia care unit at UPMC Passavant–Cranberry until 2017.
Nowadays, Cindy is feeling great and back to doing what she loves: gardening and giving back to the community. During the COVID-19 pandemic, she has sewn nearly 400 masks. Cindy also creates feminine hygiene products for girls who do not have access to them through the international organization Days for Girls.
She continues to work with Amy, but in a different way. She now makes handled straps for UPMC Rehabilitation Institute post-operative total knee replacement patients. That way, they don't need to purchase one for their exercises.
Never Miss a Beat!
Subscribe to Our HealthBeat Newsletter!
(Tap to Join!)
(Click to Join!)
I understand that by providing my email address, I agree to receive emails from UPMC. I understand that I may opt out of receiving such communications at any time.
Sorry, an error occurred. Please try again later.
Get Healthy Tips Sent to Your Phone!
Rehabilitating Cindy's Better Half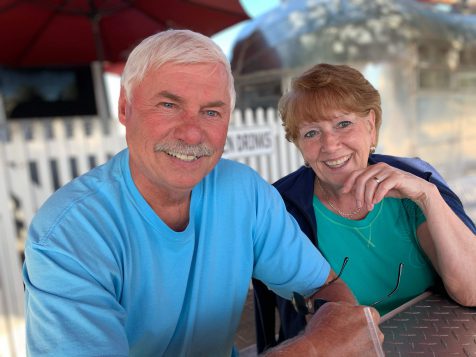 In 2020, Cindy's husband, Jeff, started to experience back pain. Constant muscle spasms kept him awake at night – causing him to lose sleep for months. Sessions with a chiropractor helped relieve his pain, but the spasms remained. Jeff, 70, turned to his primary care physician, who wrote him a prescription for one month of physical therapy.
Witnessing the success Cindy had with Amy at UPMC Rehabilitation Institute, Jeff made an appointment with Amy. He got a prescription for a strong exercise regimen as part of his therapy.
"Within one week of working with Amy, my back quit spasming," says Jeff. "I still had some pain, though, so she put me on an exercise regimen to loosen my back muscles. She came up with techniques to stretch my muscles, which relieved my discomfort."
PT Backed by the Latest Rehabilitation Research
The UPMC Rehabilitation Institute's Mars office is located in Suite 200 at 6998 Crider Road. Along with physical therapy, it offers these services for patients of all ages, with a focus on individualized attention:
Gait and balance dysfunction rehabilitation.
Limb-loss program.
Orthopaedic post-surgical physical therapy.
UPMC Rehabilitation Institute has additional locations in the north in Wexford and Cranberry. Our therapies follow the most up-to-date research for rehabilitation. We treat numerous conditions, from arthritis and tendinitis to injuries and lingering symptoms from COVID-19, post-intensive care, or other extended hospital stays.
In most cases, a referral from your physician is not required to schedule an appointment with UPMC Rehabilitation Institute. Direct Access physical therapy makes it easy to book an appointment. You can search for more locations online or schedule an appointment by calling 1-888-723-4277, option 2.
Editor's Note: This article was originally published on , and was last reviewed on .
Connect with UPMC
The UPMC Rehabilitation Institute offers inpatient, outpatient, and transitional rehabilitation, as well as outpatient physician services so that care is available to meet the needs of our patients at each phase of the recovery process. Renowned physiatrists from the University of Pittsburgh Department of Physical Medicine and Rehabilitation, as well as highly trained physical, occupational, and speech therapists, provide individualized care in 12 inpatient units within acute care hospitals and over 80 outpatient locations close to home and work.