Tailgating is a beloved pastime for many football fans, but it's also an opportunity to overindulge in burgers, nachos, and other less-than-wholesome food.
The result? Indigestion, heartburn, and maybe even a few extra pounds. To keep you feeling your best at the big game, we've put together four healthy tailgate snack options that won't leave you hungry.
1. Seven-Layer Dip
Traditionally made with sour cream, cheese, guacamole, and other fatty fare, seven-layer dip is a mainstay of many tailgate parties. But it's possible to enjoy a version of this favorite that's lighter on calories but still heavy on flavor.
Spread 2 cups of chopped lettuce (we like romaine) at the bottom of a large bowl. Then add layers made of the following:
2 mashed avocados
1 cup of nonfat Greek yogurt
2/3 cup of black beans (rinsed and drained)
1/2 cup diced tomatoes
Sprinkle with cheese, and top with sliced black olives and scallions.
2. Roasted Wings
You don't have to give up chicken wings to have a healthy time tailgating — just swap out some ingredients and change your cooking method. For buffalo-flavored wings, simply season mini drumsticks and wings with salt and pepper and marinate in your favorite hot sauce for at least half an hour. Bake at 375° for about an hour, turning halfway through and basting occasionally. Serve with Greek yogurt dip when cool.
3. Grilled Kebobs
Skip the burgers and load up your cooler with premade kebobs: Soak wooden skewers in water (or use metal ones), then pile pieces of boneless, skinless chicken breast, salmon, lean beef, or tofu, alternating with your favorite veggies (we recommend peppers, onions, and mushrooms). Grill until done, then store in the fridge until game time.
4. Shredded Slaw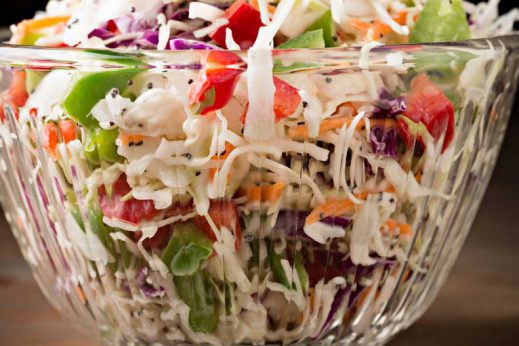 Revamp coleslaw by ditching the mayo in this popular side dish. Instead, whisk up a simple dressing of 1/4 cup fresh lime juice, 1/4 cup olive oil, and salt and pepper to taste. Pour it over a vibrant slaw made of 2 cups shredded red cabbage, 2 cups shredded green cabbage, a couple of shredded carrots, and fresh chopped herbs (try cilantro and parsley). Give it a good toss and let sit for at least a few hours for flavors to blend.
Bonus Tip:
When the weather turns cold, try warming up your pre-game party with these hearty and hot tailgate drink ideas.
Never Miss a Beat!
Subscribe to Our HealthBeat Newsletter!
I understand that by providing my email address, I agree to receive emails from UPMC. I understand that I may opt out of receiving such communications at any time.
Thank you for subscribing!
You are already subscribed.
Sorry, an error occurred. Please try again later.
Get Healthy Tips Sent to Your Phone!
Connect with UPMC
Headquartered in Pittsburgh, UPMC is a world-renowned health care provider and insurer. We operate 40 hospitals and 700 doctors' offices and outpatient centers, with locations in central and western Pennsylvania, Maryland, New York, and internationally. We employ 4,900 physicians, and we are leaders in clinical care, groundbreaking research, and treatment breakthroughs. U.S. News & World Report consistently ranks UPMC Presbyterian Shadyside as one of the nation's best hospitals in many specialties and ranks UPMC Children's Hospital of Pittsburgh on its Honor Roll of America's Best Children's Hospitals.