Many holiday traditions involve food. Lots of it.
Whether you hosted a party or were gifted with leftovers, you'll have extra food on hand during the holiday season. But don't settle for another reheated dinner or cold sandwich.
Why not reimagine those leftovers into new, nutritious dishes? Here are some tips to help you use up your holiday fare.
Appetizers
Recycle your half-eaten fruit leftovers into a mixed fruit smoothie.
Chop up the leftovers from veggie plates for salads, stews, soups, and chili.
Spread leftover guacamole or hummus onto a sandwich, whole-grain tortilla, or whole-grain flatbread.
Mix any remaining nuts and dried fruit into a simple and light spinach salad.
Use the remnants from a cheese tray to boost the calcium and protein content of a quiche.
Add slices of summer sausage to pasta sauce or soup.
Create your own trail mix from leftover nuts, raisins, chocolate bits, and pretzels.
Incorporate leftover olives into a veggie-packed pasta salad.
Sweet Potatoes
Scoop out the insides of leftover baked sweet potatoes and pile in black beans, reduced-fat shredded cheese, and salsa. Crack an egg into the "sweet potato boat." Then bake for a Mexican-inspired breakfast.
Pump up the nutrition in your holiday breakfasts and baked goods by integrating mashed sweet potatoes into pancake, waffle, muffin, or brownie batter.
Puree leftover sweet potatoes with chickpeas, tahini or olive oil, garlic, and spices into a tasty hummus. Use this as a creamy alternative to high-calorie sandwich spreads or as a dip for raw vegetables and whole-grain crackers.
Mashed Potatoes
Make cold mashed potatoes into crispy, flavorful potato patties with Parmesan cheese, egg whites, and breadcrumbs.
Repurpose the mashed potatoes from your holiday feast into shepherd's pie.
Combine leftover mashed potatoes with onion, pepper, and matzo meal. Then shape into potato cakes and sizzle over high heat.
Never Miss a Beat!
Subscribe to Our HealthBeat Newsletter!
(Tap to Join!)
(Click to Join!)
I understand that by providing my email address, I agree to receive emails from UPMC. I understand that I may opt out of receiving such communications at any time.
Sorry, an error occurred. Please try again later.
Get Healthy Tips Sent to Your Phone!
Turkey Leftovers
Reuse the leftover bones of your holiday bird to create a homemade broth that is much lower in sodium than stock purchased at the grocery store.
Stuff leftover turkey into a whole-grain pita pocket with baby spinach leaves and smashed avocado.
Build a healthy quesadilla using whole-wheat tortillas, reduced-fat shredded cheese, tomatoes, bell peppers, onion, and leftover turkey.
Wrap sliced turkey breast in large lettuce leaves for a super speedy lunch. For extra flavor and crunch, splash in a little low-sodium soy sauce and sprinkle minced scallions, mushrooms, and chopped pecans/walnuts over turkey before wrapping up.
Pre-cooked turkey can be added to almost any soup for extra protein. Prepare one of your favorite soup recipes and stir in the turkey once the soup is complete. Simmer over medium heat until the turkey is warmed through.
Cook a hearty, delicious soup using leftover turkey, carrots, celery, onions, and brown or wild rice.
Shred leftover turkey pieces; mix with fresh or frozen vegetables, white beans, herbs, spices, and low-sodium broth for a unique twist on chili.
Layer leftover sliced turkey into a grilled cheese sandwich.
Fill an omelet with leftover roasted turkey and savory seasoning.
Ham Leftovers
Whip up a satisfying bread pudding using leftover smoked ham, Swiss cheese, and rolls.
Fold leftover ham in with eggs and vegetables for a frittata you can enjoy any time.
Include leftover ham in a highly customizable, veggie-packed risotto.
Pumpkin
Swirl pumpkin puree into muffin, pancake, or waffle batter.
Replace the eggs or oil in brownies, cakes, or sweet breads with leftover pumpkin puree.
Blend pumpkin puree with skim or 1 percent milk, nonfat yogurt, fruit, and/or spices into a shake or smoothie.
Spice up leftover pumpkin puree in pumpkin curry or pumpkin soup.
Cranberry Sauce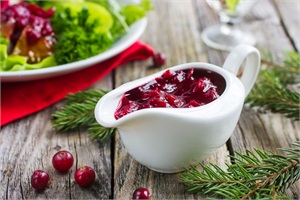 Make a yogurt cranberry parfait by alternating plain Greek yogurt with leftover cranberry sauce and your favorite fruit. The sweetness from the cranberry sauce will balance the tartness of the Greek yogurt perfectly.
Smear cranberry sauce onto whole-grain toast or a grilled cheese sandwich.
Top whole-grain pancakes with cranberry sauce instead of maple syrup.
Spoon cranberry sauce into oatmeal, followed by a sprinkle of shaved almonds and cinnamon.
Drizzle leftover cranberry sauce over low-fat frozen yogurt.
Stuffing
Carve out a Portobello mushroom, bell pepper, tomato, yellow squash, acorn squash, or zucchini and fill the cavity with leftover stuffing.
Recreate your holiday meal into a portable form by baking leftover stuffing with pieces of turkey or ham, spinach, eggs, and milk in a muffin tin.
Substitute leftover stuffing in place of breadcrumbs when making meatballs.
Stash your stuffing leftovers in oven-safe ramekins. The next morning, add an egg to each ramekin and bake in the oven for an easy breakfast.
Vegetable Leftovers
Revive your leftover vegetable side dishes by turning them into fritters with eggs and whole wheat flour.
Transform roasted vegetables into stew or ratatouille.
Toss chilled leftover green beans into a salad with sliced shallots, walnuts, and citrus vinaigrette.
Sauté leftover green beans in a stir-fry with shrimp or chicken, broccoli, bell peppers, carrots, and brown rice or quinoa.
Dice leftover Brussels sprouts and mix with eggs, onion, tomatoes, basil, and spices for a memorable egg casserole.
Thinly slice leftover Brussels sprouts to create a cabbage-like coleslaw. Add carrots, apples, shallots, turkey, and your favorite vinaigrette dressing for a colorful dish.
Featuring Tamara Rhodes, MS, RD, LDN
Editor's Note: This article was originally published on , and was last reviewed on .
Connect with UPMC
UPMC Harrisburg is a nationally recognized leader in providing high-quality, patient-centered health care services in south central PA. and surrounding rural communities. UPMC Harrisburg includes seven acute care hospitals and over 160 outpatient clinics and ancillary facilities serving Dauphin, Cumberland, Perry, York, Lancaster, Lebanon, Juniata, Franklin, Adams, and parts of Snyder counties. These locations care for more than 1.2 million area residents yearly, providing life-saving emergency care, essential primary care, and leading-edge diagnostic services. Its cardiovascular program is nationally recognized for its innovation and quality. It also leads the region with its cancer, neurology, transplant, obstetrics-gynecology, maternity care, and orthopaedic programs.